Let's be honest with ourselves as homeowners. Our roof is not always top of mind. With minimal regard to our roof besides occasional care maintenance, it's easy to overlook or underlook, for that matter. Still, in reality, a roof is one of the essential areas of the home. It protects your family from the elements, adds curb appeal, prevents leaks, and cuts heating and cooling costs.
Your roof carries many responsibilities. It's likely why, as homeowners, we need to fix it immediately when something goes wrong. Unfortunately, like many of us, we don't know the first thing about a roof. There are many details and decisions to be made before choosing the right roof for your home, but it doesn't have to be overwhelming. Here are ten things to consider before buying or replacing your roof.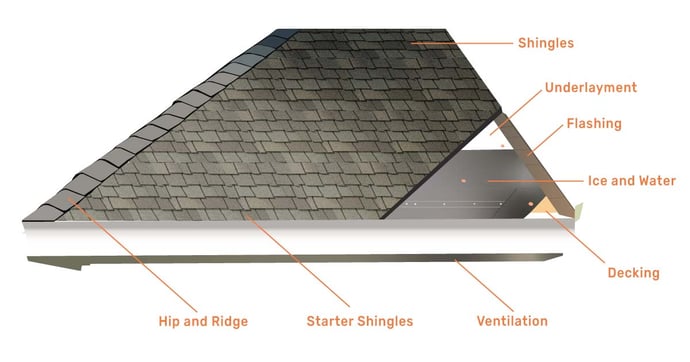 1. Roofing is more than shingles
It's an interconnected system (sheathing, underlayment, ice and water membrane, flashing, ventilation and shingles.) And what you don't see is every bit as important as what you do. Aside from the shingles, here are a few of the main components of an asphalt shingle roofing system, the most common type of roof in the US.
Roof Sheathing - the strong layer of wood boards usually made of OSB or plywood (better for heavier materials) that are fixed to your roof's joists and trusses. Sheathing, also known as decking, provides additional support and strength to the roof, help prevent leaks, and provide a surface for the other materials to adhere. When replacing your roof, you may be charged extra to replace sheathing that has rotted. Homes built before 1975 may need to be fully re-decked since spaced decking is no longer up to international building code.
Underlayment - an extra layer of protection from water penetration underneath the shingles that attaches to the sheathing. For enhanced water-resistance and protection from elements, many roofers use synthetic roofing underlayment as oppose to felt.
Ice and Water Shield - a waterproof roof underlayment membrane that protects vulnerable areas on a roof from ice and water damage. These are typically required in colder climates.
Flashing - these thin pieces of impervious waterproof material (usually galvanized steel) are used to direct water away from critical areas of the roof such as valleys, joints, edges, roof penetrations and any other gaps. Flashing is installed where the roof plane meets a vertical surface and surrounding other roof features, such as vents, chimneys and skylights.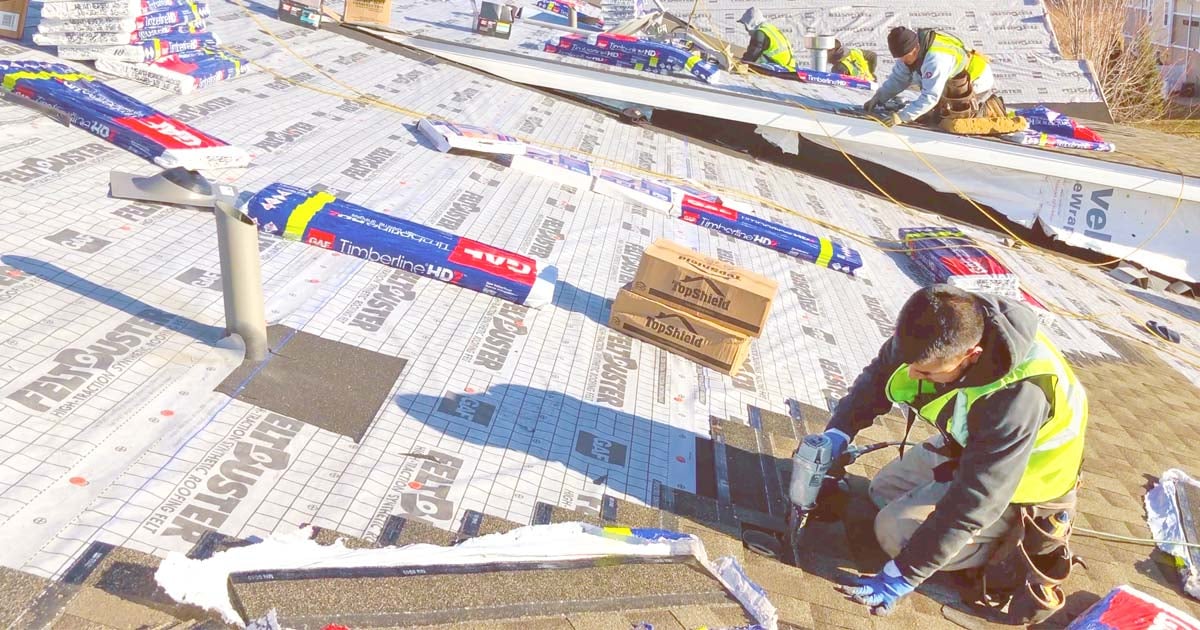 2. Quality installers are as important as quality products
Your crew should be trained, insured, drug-free and work safe. It should obtain a permit and have its work inspected and approved by your city or town and provide a warranty. It pays to be patient with crew availability. Specialty roofs like metal or tile call for specialized crews to perform the install properly. Steep slope roofers are another rare breed and may be "booked out" slightly longer than roofing crews for low slope application.
3. Choose products designed for your region, climate and application.
Specialized products are available to resist mold and moss growth, high winds, hail impact and extreme heat. When it's time to replace a vehicle most people start by determining what type of vehicle they want and then compare models and brands. Once they know the one that suits their needs and budget, they choose which dealer will give them the best price, service and convenience. Depending on their circumstances, they may be able to take their time or forced to act quickly. Now let's apply this approach to replacing your roof.
Suppose you do some online research on multiple sites to compare the price, performance and look of different roofing materials such as asphalt shingles, steel, composite, wood and solar. Then compare brands within your chosen category. Then get quotes from a few reputable installers to ensure you will pay fair price. Until recently, that would have required a lot of time and effort. Now you can do the whole thing with a single visit to an interactive online platform.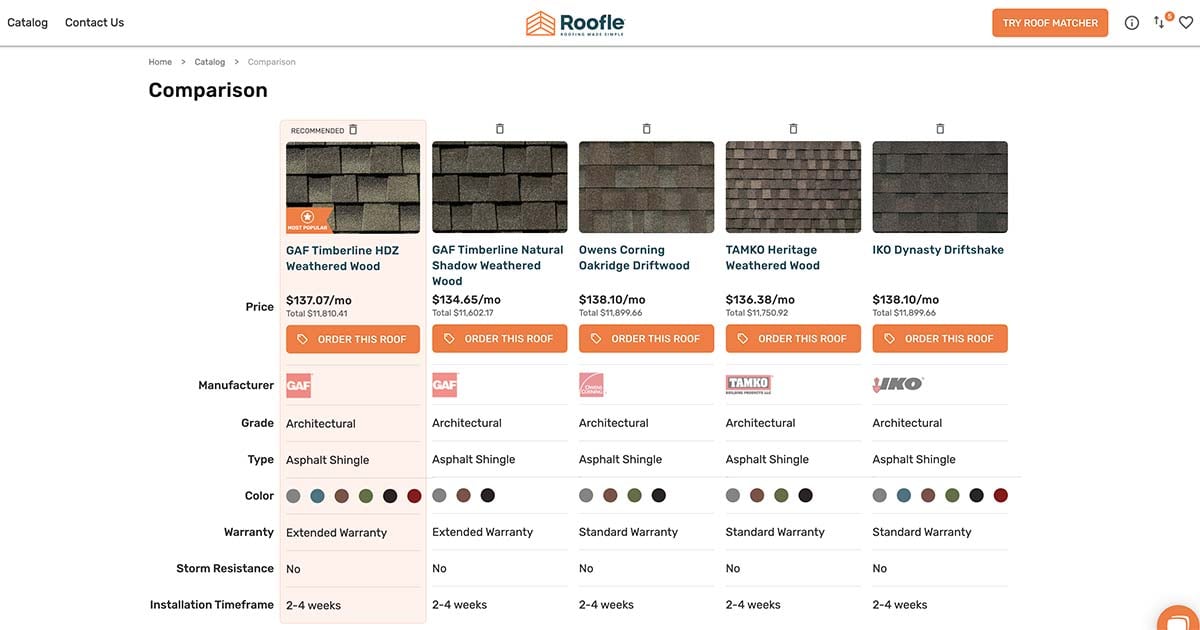 www.roofle.com enables visitors to compare roofing products, choose colors and get a firm, guaranteed fair price quote in less than 30 minutes. The alternative is to contact a single roofing contractor and accept what they recommend, regardless of how limited the options. That too easy but it may not ensure the best outcome. If the contractor only installs one brand or one type of roofing, that's what you will get. After all, the Ford truck dealer is not going to suggest a Toyota sedan.
4. When properly installed a roof can last 25 years.
Choose a color that will be compatible with your siding and remain popular a long time. The most popular color roofs are neutral grays or browns that complement siding and trim and blend with surrounding roofs, especially in dense neighborhoods.
5. Standard insurance coverage makes upgrades affordable
If insurance covers replacement costs for a comparable roof, consider upgrading to a better roof and pay the difference. For instance, many of the popular asphalt shingle products have an impact resistant version. Let's say your insurance covers your roofing cost at $4 per SF, you could choose a better shingle that offers better protection or a designer look for let's say $4.50 per SF. You'd only have to cover the extra $0.50. If you're roof is 2000 square feet, that means you're only paying $1000 (plus your deductible) for a high-end roof that would normally cost $9000!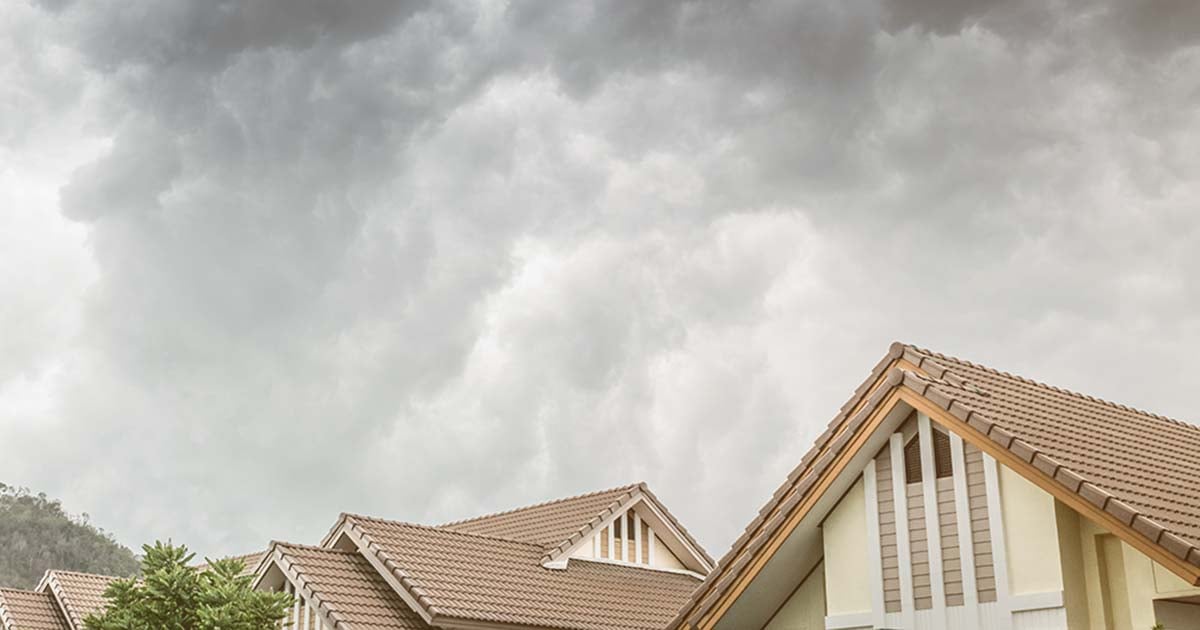 6. Covering deductibles is illegal
It is illegal for a contractor to offer to refund the cost of your insurance deductible to receive the job. Reject any contractor who attempts to violate that rule. But how will they know right? Your insurance company can ask for proof that you paid your deductible before it pays the full amount of your claim. You might have to show a canceled check, money order receipt, credit card statement, or a copy of the payment plan with your contractor. And just in case getting mixed up in fraud allegations is not a large enough warning, please understand that a contractor who covers your deductible is likely making up for it somehow on the installation. So in other words, just say no to waiving deductibles.
7. Lawns and driveways can get damaged
Boom trucks and big dumpsters can damage driveways or lawns but expect to pay more if your crew must manually haul tear off materials and building materials to and from the street.
Here is a free checklist to prepare for your roof construction.
8. Check on your insulation and ventilation
Your contractor should investigate and be able to remedy inadequate or imbalanced attic ventilation, insulation or air sealing that can shorten the life of your roof and cause ice dams. The situation in the following video is an example of how a simple but critical attic ventilation installation flaw was causing leaks and was resolved during the roofing project.
9. Stay protected from weather during install
Be sure the contractor is prepared to cover your roof and keep it weather tight if stormy weather arrives after tear off and before the new roof is installed. For colder climates, asphalt shingles have a harder time sealing and settling under 40 degrees Fahrenheit but it depends on the product.
10. Choose a contractor that will stick around
A fair price should be based on the size, pitch and height of the roof, ancillary work, materials and deadline. Choose a local, financially sound company you expect to be around if future problems arise.